Do you feel "stuck"or "in pain"? Feeling deep longing and discontent with your present life the way it is?


Don't know where to start to move forward? Then, this course is for you.


You'll learn how to create a step-by-step PLAN of action with power tools enabling you to create a life you would love living.



You'll say goodbye to a life that no longer serves you. I have expert experience to help you step into your power to create a new, purposeful life you deserve.


"The Time Is Now to stop investing in options that don't give you results you want or need."


I've spent years gathering all the power tools needed to help others break through the past and limiting beliefs causing them to remain "stuck" in a life that no longer serves them.


It's right here in this course waiting for you.


"I work with women who want to create an amazing, purposeful life. Together, we move you from settling to success by transforming your life to one full of joy and happiness."


Do Any Of These Resonate With You?
Are you "stuck" or "in pain" still living or reliving the past?


Do you want to move forward but don't know where to begin?


Are you tired or burned out, and don't have the time or energy to tend to your well-being?


Do you feel like a victim and are unable to stop nursing, cursing, and rehearsing and feeding into the drama of your situation?


Do you want to break through circumstances, situations, and conditions and sometimes people that are holding you down? (RISE UP)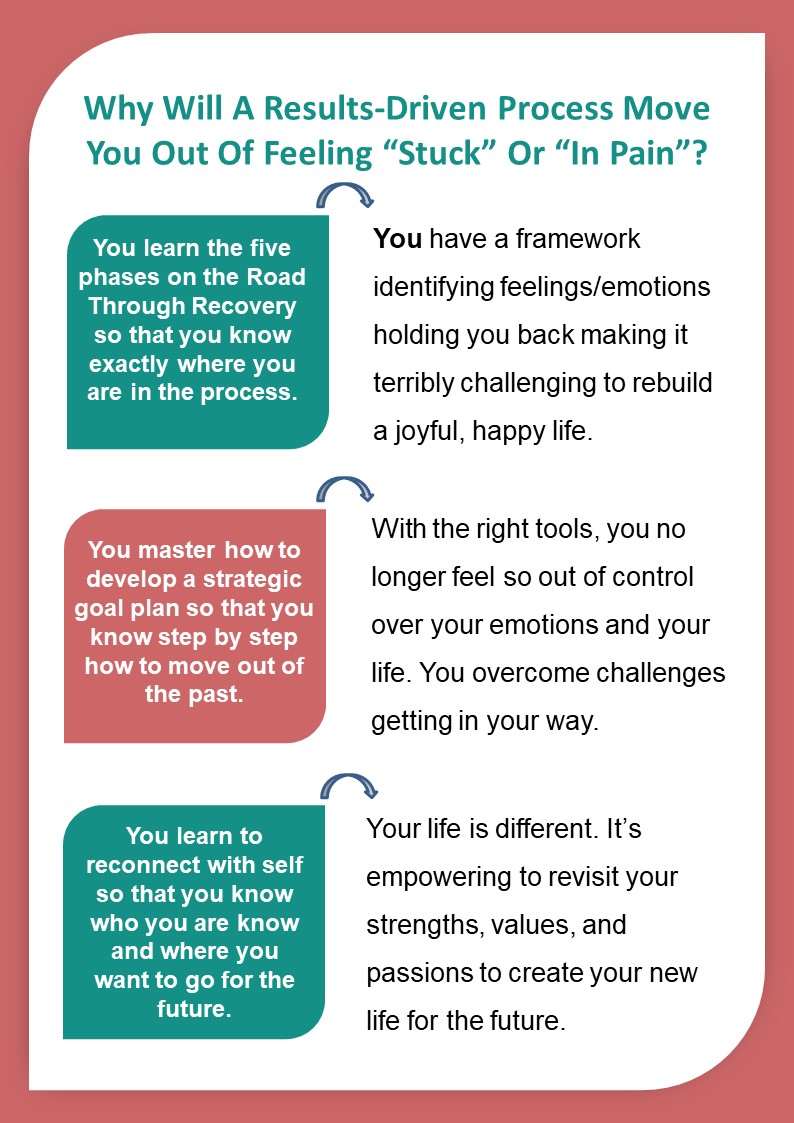 I Get It! I was where you are.
I try everything from counseling (I was a counselor and educator before transitioning to coaching) to reading every self help book I can get my hands on.
Nothing Works! To be honest, I'm waiting for someone or something to come along to save me from mental bars I feel are up all around me.
Well guess what! No one comes and nothing happens...
I realize trying to find answers outside of me doesn't work. With my experience, background, and expertise, I create my own PLAN that helps me to create an amazing life. This was how my five step process comes to be--step by step.
I've shared the process with others who now live their dreams. Now, I want to share it with you.
In this course, there is no groveling around in the past. We are always moving forward.
You'll learn how to recover and heal from the inside out. Discovering how to do this gives you power and confidence to face what is holding you back.
You are only one course away from rebuilding your new life on your own terms.
How Does The Process Work?

Step One is the Road Through Recovery

You'll uncover where "stuck" or "in pain" within a phase. My power tools help you pinpoint exactly where to start moving forward.


Step Two is Ramping Up
You'll create a comprehensive goal with specific action steps (using power tool) to overcome challenges, limiting beliefs, essentially what's keeping you stuck so that you feel empowered to make the breakthrough.


Step Three is Reconnecting With Self
You'll explore the four pillars of well-being. Your focus will be to step into your powerhouse of mind, body, and spirit so that you have to confidence and courage to take control of your life.
Also, by designing a personal life timeline, it will help you to change your mindset, perspective, and way of thinking about your past without getting involved within it. It's a whole new way of thinking.
Discovering patterns, themes, lessons learned, and opportunities for the future will help you to make better decisions for your future coming from your higher self.


Step Four is Reinventing Self
You'll reveal your strengths, values, and passions from a new point of view. You'll weave them into a target or purpose of the person you envision yourself to be for the future.


Step Five is Relaunching Self
You'll pinpoint an area of your present life that will make a major positive impact. You will create the plan. Take action. Make your new life happen.


BELOW ARE EXAMPLES OF POWER TOOLS
FOR MODULE 1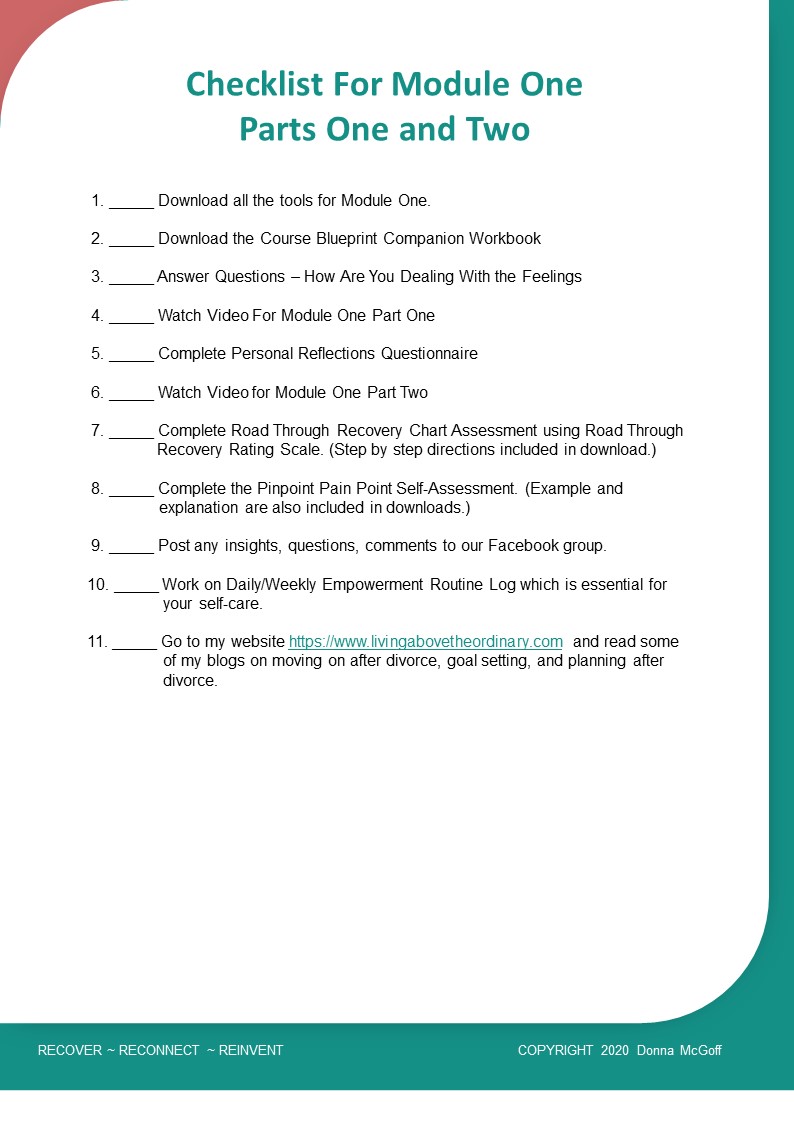 You know exactly where to start in each module. It is designed to take you step by step. Each step builds on the next.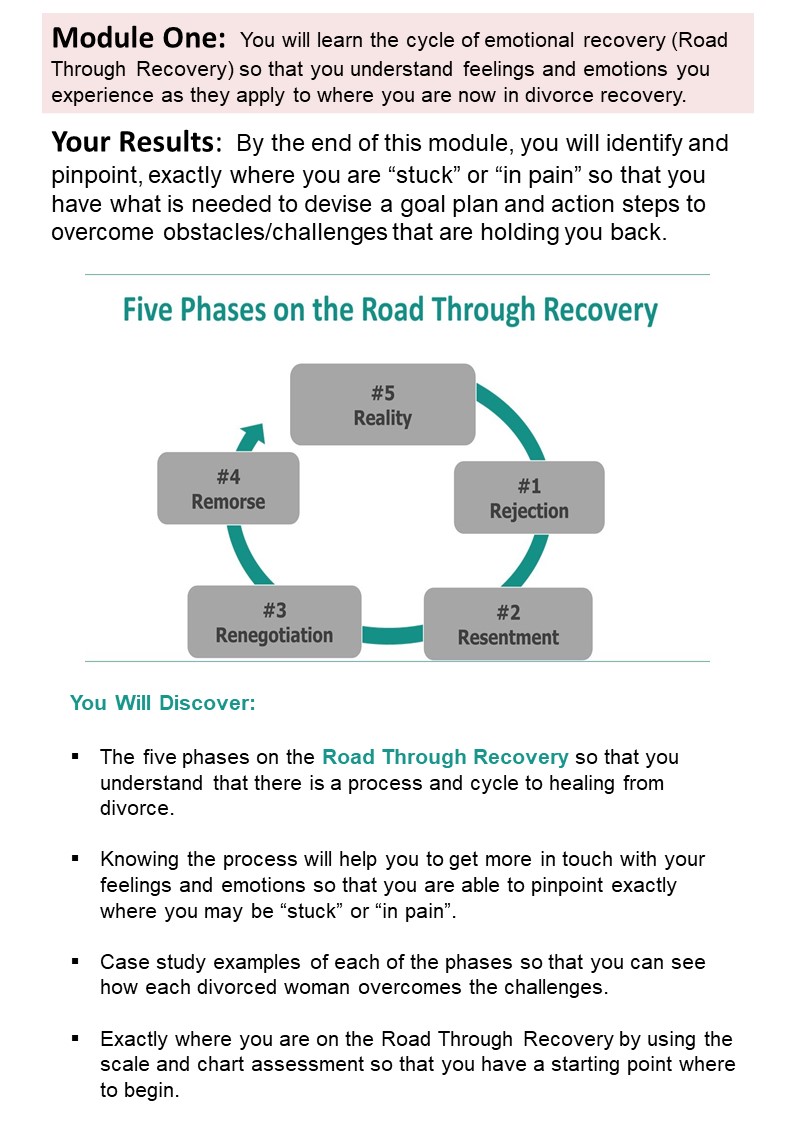 You will learn the divorce recovery cycle and feelings and emotions associated with each of the five phases.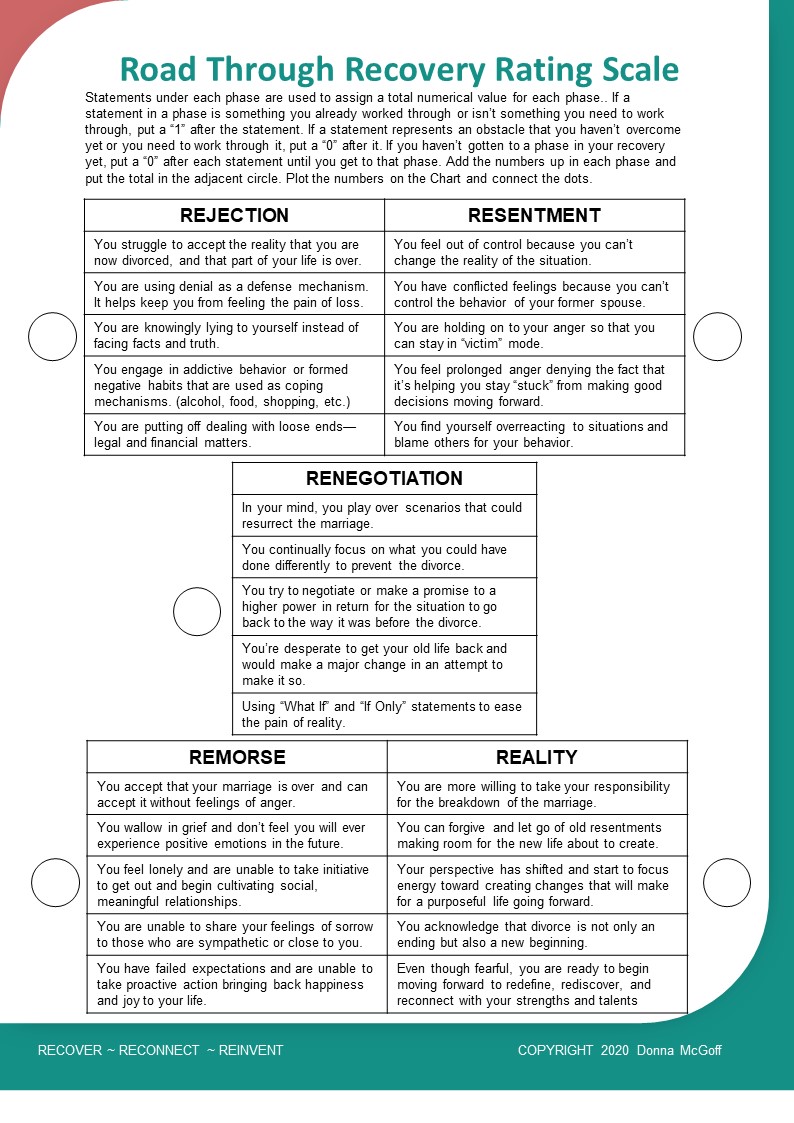 You will learn where you are "stuck" or "in pain" by discovering which statements are true for you.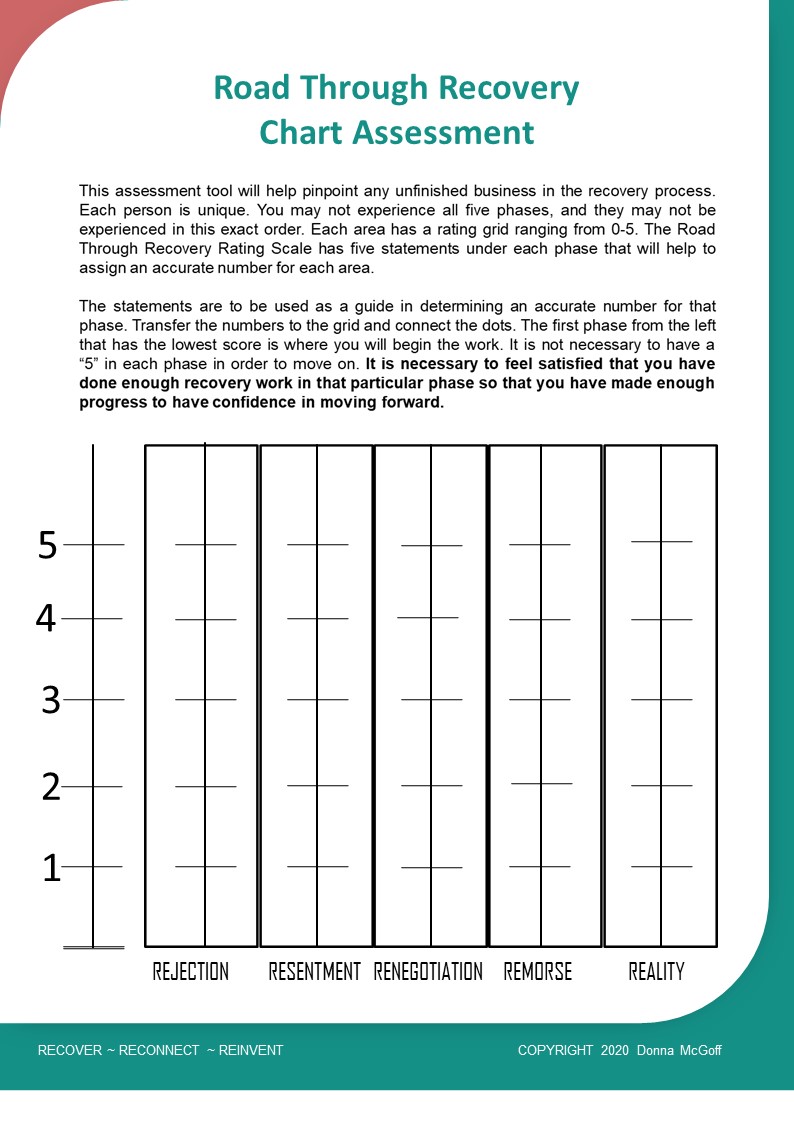 The Chart will give you a visual as you plot your scores from the Road Through Recovery Rating Scale.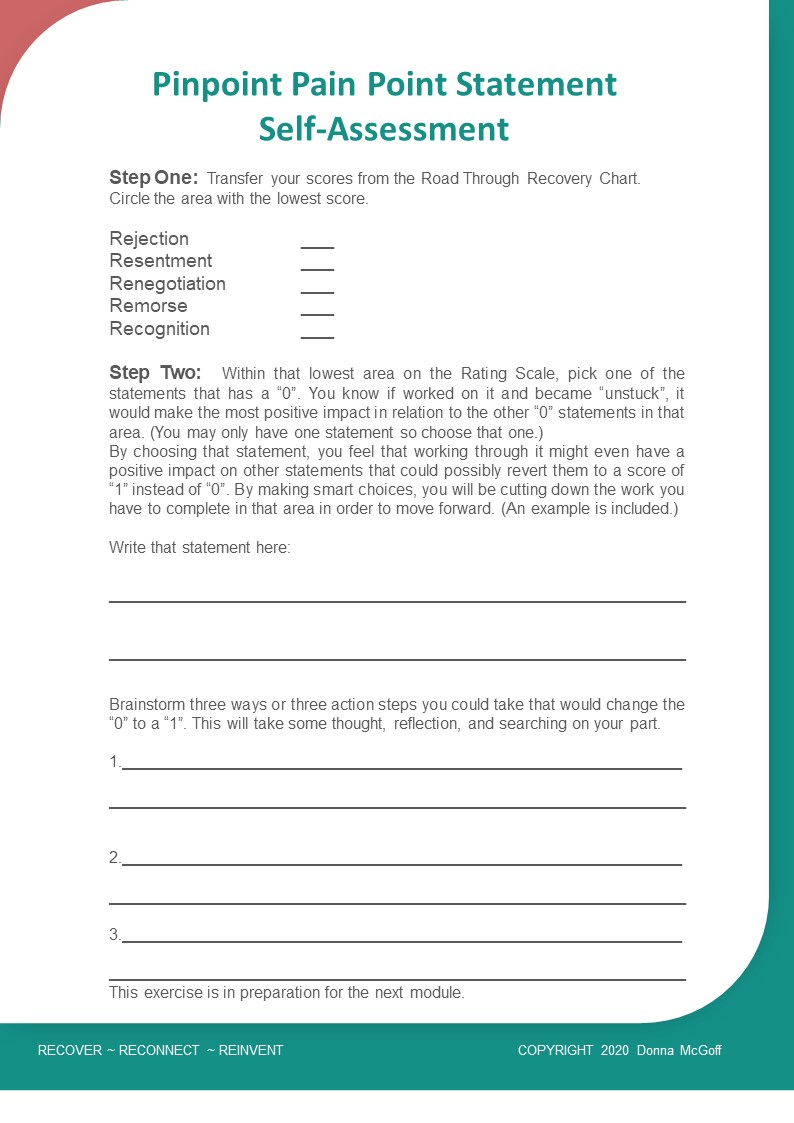 Here is where you will record your scores so that you know where to start creating action steps in the next module.
IMAGINE IF...


Imagine being given the opportunity to design a future you never thought possible?
Imagine learning how to recover and heal with the right power tools so that you achieve new and better results much more quickly.
Imagine learning how to change your attitude and thinking so that you break free from the past and look to the future with hope and promise.
Imagine Reconnecting with who you are now so that you have the power and energy to become who you want to be for the future.

Imagine Relaunching yourself to where you want to go so that you embrace a new beginning creating a life on your own terms.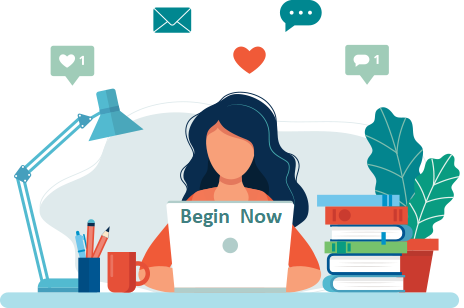 Hi There, I'm coach Donna.
I created this course to help share my passion in helping women to embrace a new beginning after divorce.


If you're anything like me, you struggle with fear of the unknown, and where to begin the journey to starting over again.


As a certified life transition coach and counselor, I spend a lot of my time working with women one-on-one to help them transform their thinking, attitude, and perspective so that they have the power and energy to create a new life.


I know just how daunting it can feel as I was there before I created my results-driven PLAN so that I could pinpoint exactly where to start the recovery process.


I felt that I was ready but realized that there were some "paradigms" holding me back. That is the secret to moving forward in a healthy way.
Now, I have several courses and each one is carefully designed to make my process more affordable and accessible.
If you are ready to face the situation, condition, or circumstance; and move past the past, this course is for you.

Here's Where You Will Start

FREQUENTLY ASKED QUESTIONS

Where should I be in the divorce recovery process to get the most benefit from coaching?
You should have already transitioned through your divorce. You have made the decision to change your life. You are ready to do the work to make it so.

How do I contact you if I have a question on the process?
What if I want to work more closely with you so that I have support, guidance, and accountability?
Scroll down to view "View More Products" click on the link. There is my premium coaching and will guide you every step of the way in this process.
Can I get a refund if I'm unhappy with my purchase?
If you are unsatisfied with the course and not seeing the results with all the time and effort you are putting into it, reach out. We will refund up to 30 days with no questions asked.



"After going through my divorce, I found myself pulled in many directions being caught up in the complex process. I was neglecting my physical health. With Donna's help, I was able to start rebuilding my life by gaining a new, fresh perspective which enabled me to better manage my stress, anxiety, and overwhelm. My learning how to do that, I was able make better decisions that were in my best interest."
--Ginny W., Health and Wellness Coach, New York


"I was really stuck. I was just going through life doing the same old boring things never thinking that I had the power to make my life different. I had no real purpose. Also, my old lifestyle was holding me back but was afraid to do anything about it. Donna's guidance and support gave me the courage to work through her process and change my life."
--Rachel M., Elementary School Teacher, Massachusetts



"After my divorce, I didn't think I deserved to have any love or happiness in my life. I was desperate to change these thoughts and feelings. Working with Donna, I was able to learn to change my mindset so that I could begin to believe that I deserved a happy, new life going forward."
--Betty, Coffee Shop Owner, Florida


"My life was pretty good except in the romance department. Now that my divorce was over, I wasn't sure what my next step was. I didn't want to make the same mistakes I made before. I started to see that by taking care of my inside, I would make better choices the next time around."
--Jane T., Homemaker, Rhode Island
(Names changed due to nature of subject to protect privacy.)


On the Checkout Page
,

there are five bonuses listed that will help you achieve success in reaching this goal.



Make the investment because you are so worth it.

Here are some courses you may be interested in.
There are also coaching packages that can go along with some of the courses for more focus and guidance as you work through them.
Click on the view all products to see them.



Check your inbox to confirm your subscription